You Are Invited
Please join Regine T. Rousseau, Founder and CEO of Shall We Wine and Theodora Lee of Theopolis Vineyards on Friday, December 18th @ 6pm CST.
You know Shall We Wine for "putting you on" fabulous brands and producers. With these virtual hours, we aim to infuse that same joy and wonder you would during our usual tastings… but while you're in the comforts of your home!
And unlike many large scale tastings, this invite gives you exclusive access to an intimate mini-party with amazing people in the food and beverage world! Come, and let's taste through some magic. See you soon!
Our Guest: Theodora Lee of Theopolis Vineyards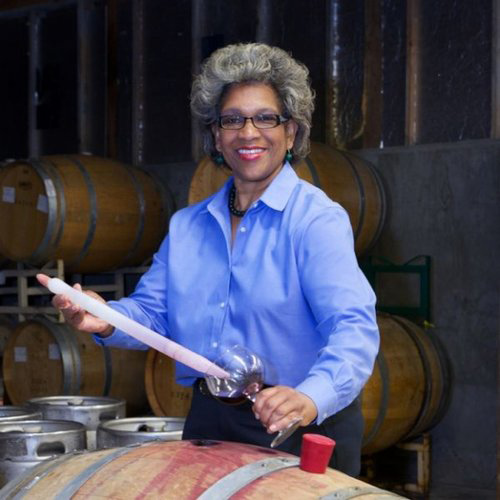 Ms. Theodora Lee, a senior partner and trial lawyer at Littler, founded Theopolis Vineyards in 2003. In the wine world, Ms. Lee is known as Theo-patra, Queen of the Vineyards. Her passion for wine began upon her arrival to San Francisco from Texas in 1987, primarily due to the influence of her law firm mentors, many of whom owned vineyards. This led Ms. Lee to take several viticulture classes at UC Davis, before deciding to develop her own vineyard. In 2001, Ms. Lee purchased sheep land in the Yorkville Highlands of Anderson Valley, and began developing her vineyard. This process was quite complex from clearing land, doing soil tests, obtaining permits to remove some trees, drilling an agricultural well, and terracing the property. Finally, in 2003, Ms. Lee planted her 5 acre vineyard. Ms. Lee adopted her Greek name from pledging Delta Sigma Theta Sorority, and established Theopolis Vineyards.
Ms. Lee and Theopolis Vineyards have been featured in various publications, including Forbes Magazine, Bloomberg, Sunset Magazine, Wine Enthusiast Magazine, Sonoma Magazine, HuffPost.com, The Press Democrat, Essence Magazine, to name a few. Ms. Lee has made guest appearances on various TV and Radio Shows, including Check, Please! Bay Area, CBS News, Los Angeles Radio Station 94.7 The Wave, The Ryan Scott Show and On-the-Go with John Hamilton, to name a few. Recently, Ms. Lee was recognized as a 2020 Wine Industry Leader.
FEATURED WINES
The below Wines are available on the Theopolis Vineyards website. Click on each photo for links.
Registration is required below.
While there is no charge for this event, donations are very much appreciated:
Zelle: Regine@ShallWeWine.com
Venmo: @Regine-Rousseau
CashApp: @ShallWeWine
Thank you for your continued support in making Shall We Wine your go-to wine & lifestyle resource.