Shall We Wine is not your average wine & spirits company…
Founded in 2013, Shall We Wine is a Chicago-based experiential marketing, event planning and media powerhouse. With a fun, dedicated network of wine & spirit professionals who share Regine T Rousseau's vision, Shall We Wine is dedicated to memorable customer experiences. In addition, we are a resource that helps translate complex terminology into language that individuals of every level of wine & spirits proficiency can appreciate… all while having fun!

Regine fell in love with wine during a college study abroad trip to Besançon, France. Bitten by the wine bug early on, she began her career in the beverage industry as a salesperson for a wine distributor. While in this role, Rousseau noticed how the barrier of "wine speak" formed a disconnect between wine professionals and consumers. Inspired to bridge the gap, Shall We Wine was born. Wine grew from a hobby to a job to a passion, so when she was laid off in 2013, she saw a once-in-a-lifetime opportunity to center her focus on Shall We Wine.
This love for wine morphed into a love and appreciation for other beverages across the alcohol vertical. Regine has received her Level II certification from the International Sommelier Guild and an Executive Bourbon Steward from Stave and Thief Society. She believes in the wine & spirits experience like an artform. An immersive practice — which translates into the world of art, music and poetry.
As a wine & spirits educator, Regine uses her platform and unique experience to bring honest and engaging narratives to the spirit of the food and beverage community. Inspired by breaking down the boundaries between the beverage professional and the consumer, she takes easily perplexing subjects and presents them in a lively, enjoyable light.
A Haitian-American, Regine is passionate and a strong advocate for diversity and inclusion in all facets of the wine & spirits industry. She uses her influence to empower others to reach their potential, from brands to fellow entrepreneurs. It's without question she was honored as a "Diversity in Wine 2019 Wine Influencer" and one of "40 African-American Tastemakers."
Her involvement reaches far and wide. She was named a Gwendolyn Brooks Open Mic semi-finalist in 2011, contributed to the session "Haitian Literature Being Written in the 21st Century – Both Within Haiti and its Global Diaspora" at the AWP Conference in 2012 and served as emcee for the Nathan Manilow Sculpture Wine and Dine event in 2018. She began contributing a wine column for the Chicago Defender in 2013. She was also a featured panelist at the Association of Writers & Writing Program conference in 2012, the Inaugural Blacks in Wine Symposium in 2017, the Women's Breakfast Business Panel presented by the City of Chicago and the SoloCEO Summit in 2019. Additionally, Rousseau has been featured in The New Yorker, Vine Pair, Black Enterprise and Wine Enthusiast Magazine, Cuisine Noir and has made television appearances on Sister Circe Live, WGN Chicago, Great Day Washington, Let's Talk Live and Windy City Live.
The Written Word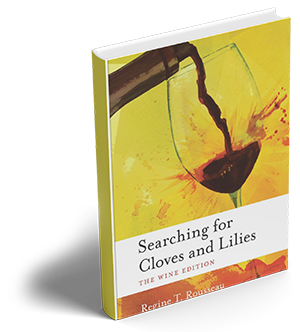 Regine's book Searching for Cloves and Lilies: The Wine Edition exemplifies this translation from wine to art form. Language is integral to her work as a poet and published author where wine and written word are often interwoven. On each page Rousseau boldly illustrates the dynamics of personal relationships while pairing each poem with wine that echoes the mood of her writing. This fascinating book also launched a multi-city book tour in the United States and even across to the famed American Bookstore in Rome, Italy.
Regine also launched Champagne Diaries, an original dramatic blog in which Champagne is a main character. Regine skillfully crafts a narrative of Champagne as a dynamic companion through twists and turns that life brings about.
Get Your Copy