You Are Invited
Please join Regine T. Rousseau, Founder and CEO of Shall We Wine and Sukari Bowman for Wine & Conversations on Friday, February 26, 2021 @ 6pm CST
You know Shall We Wine for "putting you on" fabulous brands and producers. With these virtual hours, we aim to infuse that same joy and wonder you would during our usual tastings… but while you're in the comforts of your home!
And unlike many large scale tastings, this invite gives you exclusive access to an intimate mini-party with amazing people in the food and beverage world! Come, and let's taste through some magic. See you soon!
This event is FREE for ALL SWW members! The cost is $15 for non-members.
Our Guest: Sukari Bowman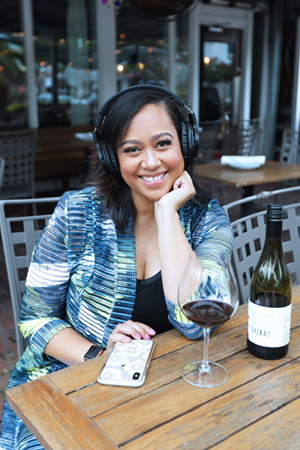 A wine-loving Cali girl with Southern charm, Sukari Bowman has mastered the balance of her 20-plus year career in Real Estate Finance and her passion as the co-founder of Love & Vines, an educational, lifestyle platform that passionately cultivates souls through wine, food and music. Sukari developed her excitement for wine while working in the banking industry in New York. Her epiphany to create the Love & Vines' feature podcast, "The Color of Wine" was fueled by the loss of her father, the yearning to truly "live" her life, and the realization that minorities were extremely underrepresented in the wine industry. Today, The Color of Wine provides an unprecedented platform for people of color in the wine industry
including winemakers, sommeliers, wine educators, owners of wine shops, wine touring companies and wine brands, vineyard managers and many more. The podcast draws listeners from around the world interested in unlocking wine's intrigue and power. Since the April 2017 launch of The Color of Wine, Sukari and her brother Shomari have produced five successful seasons with more than 20,000 downloads. As the host, Sukari pairs her charisma and cheerful personality with her insider wine knowledge to ensure listeners worldwide enhance their wine acumen.
Featured Wines