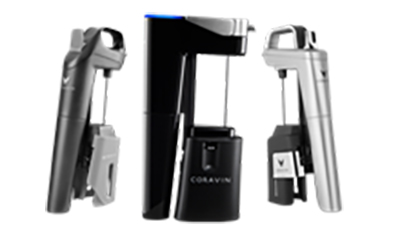 The Coravin Wine Preservation system has changed my life! Prior to covid, I could not wrap my head around why someone would need a coravin (https://www.coravin.com/). My habit was to open a bottle and either finish it or share it with a neighbor. Once we pivoted to virtual events, and I was opening a case of wine in a week, it did not take long for me to realize how much wine I was wasting.
" Coravin Wine Preservation Opener, pours wine without removing the cork from the bottle."
What started as a business investment, quickly turned into a lifestyle. The coravin gave me the flexibility to drink a glass at a time, to reflect on the wine, and experiment with different food pairings. I am so in love with it, when Céline Bossart interviewed me for her article The 12 Best Gifts for Wine Lovers in 2020, According to Experts, for Liqour.com I named the Coravin as my top pick.
Inspired after pouring a taste (using my coravin) of the Nieport's 2015 Vertente ($30) here are three meals I paired with the wine. I chose these recipes to compliment the wines' flavors. The Nieport's 2015 Vertente is a blend of red grapes made from indigenous Portuguese varieties. The wine is balanced and  fruit forward with flavors of dark berries and minerality. The tannis are sleek. The wine has nice acidity which makes it food friendly.

"The Vertente is produced from vineyards which are more than 35 years old, growing in the Quinta de Nápoles, and from old vines planted on the slopes of the Pinhão River where Touriga Franca, Tinta Amarela and Rufete are the predominant varieties. The old vines contribute to the wine's elegance, while the younger fruit lend it a youthful freshness. In this excellent 2015 red, concentration, fruit, complexity and elegance create a unique harmony. In line with the Niepoort style, the Vertente is finer, more elegant and more linear with every vintage."
Recipe 1: Regine's Homemade medium spicy salsa
After a trip to the local farmer's market I was inspired to make a salsa. You may not think of a red wine as a typically pairing for spicy salsa, but this one worked. Why? Nieport's 2015 Vertente is fruit forward with soft tannins and therefore balanced the heat from the jalapeño peppers. I was also careful to make sure the salsa was not too spicy. The wine was such a lovely pairing with the fresh tomatoes, avocado and red and yellow peppers. A fresh easy dinner served with tortilla chips.
Ingredients
Garden fresh cherry tomatoes
Jalapeño peppers
Red Peppers
Yellow Pepper
Scallions
Salt
Pepper
Lime
Avocado
Olive oil
Method: chop cherry tomatoes and halves or quarters, depending on the size of the tomato. Chop scallions and separate the whites from the green part. Chop Jalapeno pepper, red and yellow peppers. Try to chop the peppers the same size. Mix tomatoes, peppers, and whites of scallions in a bowl. Add olive oil. Add salt and pepper to taste. Squeeze some fresh lime juice. Cut your avocado in ½ and serve the salsa in the avocado bowl. Optional serve with tortilla chips
I found this yummy chili recipe at Whole 30! Since I had all of these ingredients, it was perfect. I substituted the beef with turkey. The Nieport's 2015 Vertente is the type of red wine that goes well with white meats like roasted chicken and turkey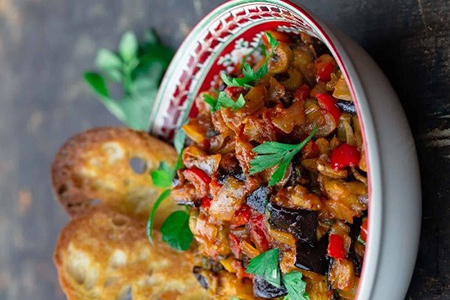 I love caponata, especially with a crusty baguette. Well there was no baguette in the house, so I ate it as is! So yummy. Caponata is a great companion to white meats. The flavors from roasted eggplant, tomatoes and herbs were a lovely paring for the Nieport's 2015 Vertente.