Pinot Grigio is considered one of the most popular white wines in the world, and rightfully so. Whether you're a novice or a longtime wine collector, when life calls for a chilled glass of something easy-drinking and delicious, Pinot Grigio provides a fresh and flavorful answer.
More often than not, though, the bottles of Pinot Grigio people grab from their local retail shelves likely come from one place, in particular, Pinot Grigio Delle Venezie DOC.
Delle Venezie production zone
Pinot Grigio's reach around the world is quite massive. However, most of it comes from a specific Italian territory covered by the Delle Venezie DOC, which expands across Triveneto, in the northeast pocket of the country and includes three famous Italian regions synonymous with Pinot Grigio: Veneto, Friuli Venezia Giulia, and Trentino.
Covering about 28,000 hectares of land — or nearly 70,000 acres — Delle Venezie DOC is responsible for roughly 85% of Italy's Pinot Grigio production. More than 570 winemakers and over 5,800 winegrowers work in the region. And who could blame them? Triveneto is a Pinot Grigio dream home.
With the Alpine arc lining the Dolomites in the north and the Carnic and Julian Alps in the northeast, the Adriatic Sea to the east, and Lake Garda to the west, the Delle Venezie DOC has ideal conditions for Pinot Grigio grapevines to thrive. The production zone is completely enclosed and protected from excessively cold and damaging winds. The many rivers throughout the area, including the Po river, mean there's rarely a shortage of water, and well-drained soils keep the vines nourished. Pair all of that with a cool climate with diurnal swings that cause temperatures to shift dramatically between day and night, and the result is a bountiful land well suited for growing grapes characterized by acidity and freshness like Pinot Grigio.
Delle Venezie DOC isn't just an important region for wine, either. Rich in history, culture, and traditions, the territory is also home to some of Italy's most notable cities, including Venice, Verona, Trento, and Treviso, among others.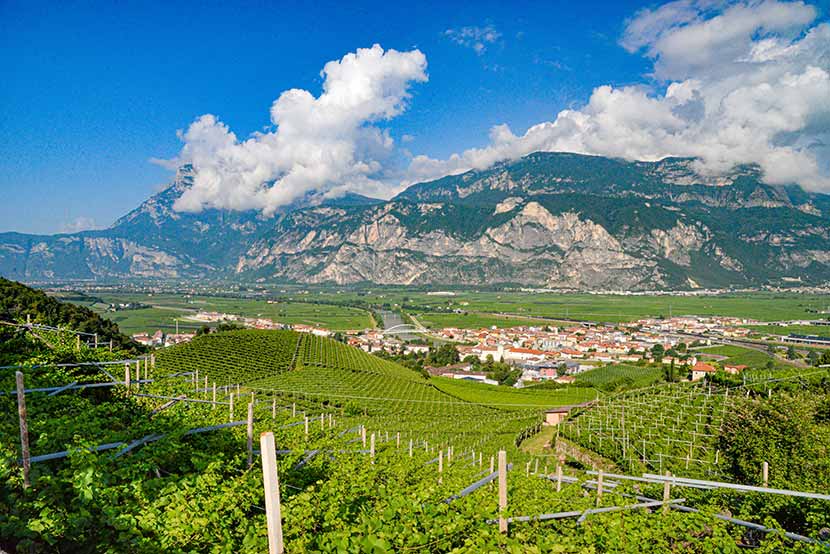 Gaining DOC status
Winemaking in the Triveneto area dates back to the 7th and 5th century B.C. when the Etruscans ruled the land. And, of course, it was an important region for the Roman Empire, with mentions of Rhaetian wines and Acinatico winemaking in Triveneto written in historical texts by famous Roman laureates like Virgil and Strabo Ulpiano Domizio.
Despite the longstanding history of winemaking in Triveneto and the worldwide enjoyment of Pinot Grigio from the region in more modern times, Delle Venezia didn't receive DOC status until 2016.
The appellation was previously known as IGT Delle Venezie. However, after much work and restructuring, the regions of Veneto, Friuli Venezia Giulia, and Trentino came together to form the Delle Venezie DOC.
The appellation is managed by a consortium born in 2017 whose sole mission is to elevate Pinot Grigio production across the region. That is achieved by maintaining specific regulations like reduced yields and sustainable vineyard practices emphasizing quality over quantity. To pass the DOC's high standards, bottles must be approved through professional and strict oenologists' tasting commissions, gaining the wines the Italian government seal and further ensuring that every glass of Pinot Grigio Delle Venenzie is top tier.
An irresistibly easy-drinking wine
The whole of Triveneto is dotted with micro-climates and terroir prime for Pinot Grigio winemaking. And indeed, Veneto, Friuli Venezia Giulia, Trentino, and the winemakers that work there all have different attributes that make their wines unique and nuanced in their own special way. However, there are some aspects drinkers can always expect in a glass of Pinot Grigio from the Delle Venezie, starting with its benchmark minerality, freshness, and versatility.
Typically Pinot Grigio from the Delle Venezie displays primary citrus fruit flavors like lemon and lime with hints of pear, apple, and crushed herbs. Depending on where the grapes are grown and how the wine is made, Pinot Grigio from the region can exude white flower aromas, honey nuances, and an essence of salinity and almonds.
Light and dry with moderate alcohol, Pinot Grigio from the Delle Venezie is balanced with refreshing acidity, making it an excellent wine for solo sipping. But make no mistake — this is a wine with the stamina and structure to stand up to food, too. Drink it with shellfish, salads, traditional Italian cuisine, and international dishes. Or pair a bottle of Pinot Grigio Delle Venezie with grilled fish, chicken, and vegetarian meals.
Throwing a party? Hosting a dinner? Pinot Grigio from the Delle Venezie is the perfect crowd-pleasing aperitivo to ease into the festivities.
No matter when or why the mood calls for Pinot Grigio Delle Venezie, you can always count on it to be an easy-drinking, refreshing wine.