Flowers are a go to gift for Mother's Day. However if your mom is a wine lover, a bouquet of her favorite wines might be a better present. This week on Daytime Chicago, Shall We Wine Founder, Regine T Rousseau created four wine and flower pairings that will make mom's day special!
Watch the segment and read below for more information on the wines featured. 
Wine 1: Stella Pinot Grigio Delle Venezie, DOC, 2022, $11.99 paired with mums. 
The sun goddess on the label was the inspiration for pairing this wine with yellow mums.  The wine smells like fresh pears and soft aromas is white flowers. 
This is the type of wine Mom can sip all  day. It is a dry wine with flavors of 
pears, white peach and citrus.  Well balanced with a zesty acidity.
Other pairings: daisies or sunflowers
Where to buy: Kimbark Beverage Shop
Wine 2: YALUMBA Y Series Viognier 2021, Australia, $14 paired with white lilies. 
Viognier is really floral on the nose. This one from Australia's most historic family-owned winery – now in its 6th generation is one of my favorites. 
Yalumba was the first to make a Viognier in Australia. "They planted the country's first commercial vineyard of Viognier in 1980, and have more than 40 years of experience working with this alluring aromatic grape."
This wine is part of their Y Series, an approachable group of wines priced for everyday consumption. This wine is fresh, fruit-driven, and perfect to introduce a wine lover to something new. 
Aromas of orange blossom with fresh ginger, hints of honeysuckle and white flowers. Fresh apricot, white tea, dried figs and fennel lead to a creamy mid-palate with a silky, textural finish.
Where to buy: Binny's Beverage Depot
Wine 3: 4 Hands Unicorn Bubbles NV (SRP $15) paired with a mixed floral bouquet.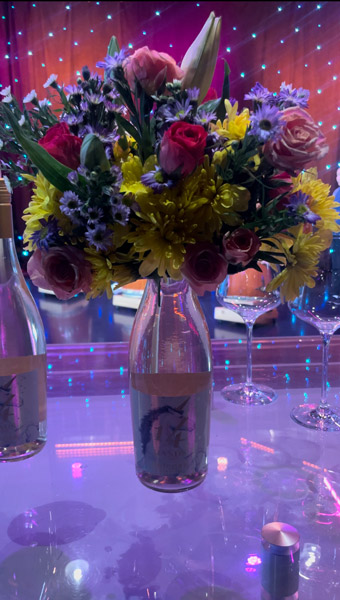 This 14 Hands Unicorn Bubbles is a great sparkler for Mother's Day.  I paired this balanced blend of 34% Chardonnay, 31% Riesling, 22% Viognier, 8% Muscat Canelli, 5% other select white varieties with a mixed bouquet that captures the mix of aromas; stone fruits and citrus, complemented by light floral notes. 
The wine is refreshing and lively with just the right amount of sweetness! There are flavors  of pear, melon and lemon zest and  balanced by crisp acidity, ending with a vibrant finish.
I love this wine for brunch paired with french toast or chicken and waffles! Find some recipes  at 14Hands.com.
Available to buy: https://www.14hands.com  
Wine 4: Cote des Roses 2022, Gerard Bertrand, AOP Languedoc, $16.99 paired with roses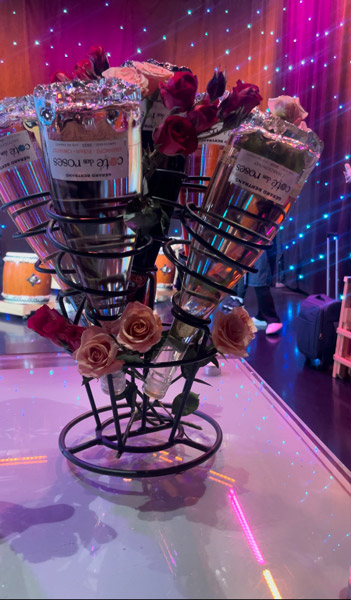 Cote des Roses wines is a celebration of the Mediterranean lifestyle. The wines are vibrant and easy. There are four wines in the collection; Chardonnay, Sauvignon Blanc, Pinot Noir and the iconic rosé! What they all have in common is they  are cool, fruity and mouthwatering! These will make a delicious display for any gathering, offering guests a variety of wines to choose from. 
Flip the bottles over to find a rose etched on the bottom! So pretty for Mother's Day and everyday! 
To Buy: Wines.com
Want to create your own wine bottle floral arrangement? It's pretty easy.
Step 1: Order flora sponge bricks from target or amazon
Step 2: Soak the Bricks in water
Step 3: Place the moist brick on a solid surface, Insert a wine bottle (upside down) in the center of the brick to create a hole.
Step 4: Place the sponge on top of the wine bottle and create your arrangements.