I had the pleasure of meeting Jenelle Bonifield, an award winning photographer and wine lover on my recent trip to Scottsdale! In true wine industry fashion, Jenelle welcomed me to Arizona and we became fast friends. I asked her to sit down for a Q&A so I could learn more about Arizona's wine region, her history and her beautiful a coffee-table book, AZ Uncorked, The Arizona Wine Guide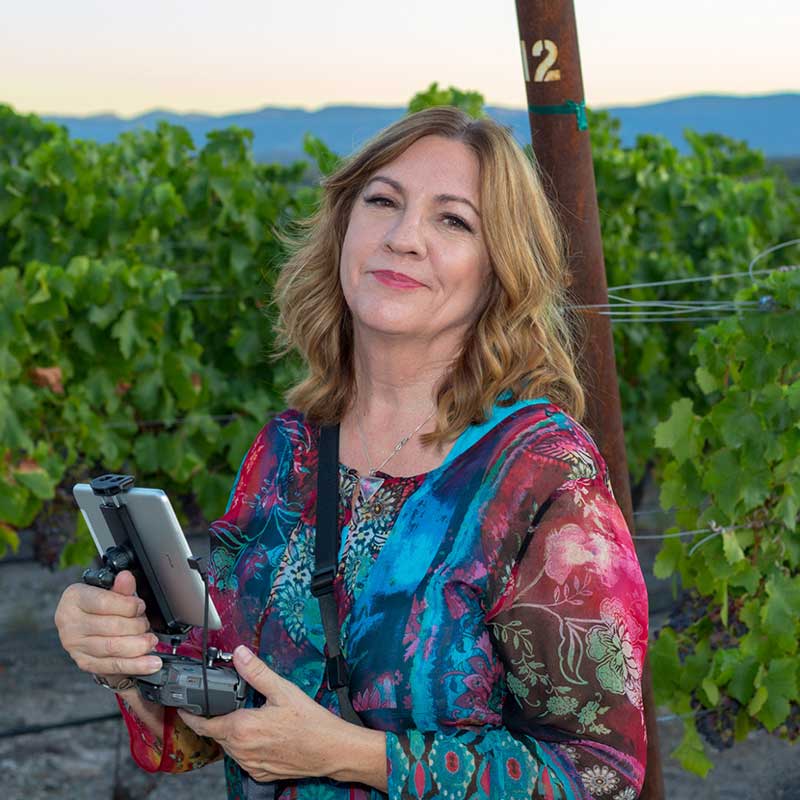 Regine: Tell us about the work you do in the wine industry:
 Jenelle: I am a photographer and I love working with Arizona wineries to showcase their wine, as well as documenting every step involved in the winemaking process. I am a food photographer by trade. I produced a coffee-table book, AZ Uncorked, The Arizona Wine Guide. I am grateful I have been able to get to know the Arizona wine industry during the process.
How did you fall in love with wines from Arizona?
Jenelle:  My first Arizona wine was from Page Springs Cellars around 2007 while visiting their tasting room in Cornville, which is in northern Arizona. Shortly after that, friends of mine, Peggy Fiandaca and Curt Dunham started LDV Winery in Pearce, which is in southeastern Arizona. That is when I truly fell in love with Arizona wine. Through their hospitality I was able to photograph at all hours in the vineyard, and the wine production process. In 2016 I won an international wine photography award from an image taken on their crush pad. They introduced me to other winemakers, and I started documenting Arizona wine. As I documented wine through photography, I was also able to experience Arizona wine and hear the stories behind the winemakers.
Where is the AZ wine region?
Arizona has three AVAs (American Viticulture Areas) as well as several outlier regions.
The three AVAs are:
The Verde Valley, in north central Arizona about 1.2 hours from Phoenix;
The Sonoita AVA in southern Arizona about 45 minutes from Tucson (the first AVA in the state)
The Willcox AVA in southeastern Arizona is about three hours from Phoenix and an hour from Tucson.
We also have several wineries near Kingman, Young, and Prescott Valley/Chino.
What is the climate?
Arizona's climate is arid and semi-arid, with average annual precipitation ranging from 3 inches in the southwest at Yuma to around 40 inches in the White Mountains in east central Arizona. All of the wine regions are at high elevations, ranging from 3000 feet to 5500 feet, with a few exceptions in outlier areas. The diurnal temperature shifts of our high elevation wine regions can range as much as 50+ degrees, creating ideal growing conditions. As one winemaker says, "you can taste the struggle" of the vines. Our wine regions share similar latitudes with Europe's wine regions.
Which varieties is AZ known for? Is there a varietal that does exceptionally well in the AZ climate?
The highest volume fruit grown is Syrah, and it does exceptionally well. We grow many Rhone Valley varieties that do very well. Grenache, Petite Sirah, Tempranillo, Pic Poul, Mourvedre, Roussanne, Barbera, Viognier, Sangiovese, Chardonnay, Malvasia Bianca, Riesling, and Chenin Blanc, to name a few, are easily grown.  Many people are surprised to learn we grow Pinot Noir, but that one is a little tricky. I've had rosé wine made from Pinot Noir and it was excellent.
Tell us about your book,  AZ Uncorked, The Arizona Wine Guide? Is it for novices or wine connoisseurs?
My coffee table book,  AZ Uncorked, The Arizona Wine Guide, was created to share information I have learned about Arizona wine. Many of the vintners and winemakers in Arizona had previous careers, and some maintain dual careers: indie rock star, Hollywood film director, technology and engineering professionals, and so many more (see my book for more details). I believe the character of the wines produced reflect the diversity of the winemakers' backgrounds. I photographed thousands of images, whittled down to 500 for the book. It contains regional intros and maps, and winemaker stories in the 544 pages. I had a team of writers and an Arizona historian tell the stories of the wine and winemakers. My primary target is anyone interested in Arizona wine, with little knowledge, or connoisseurs who would like a deeper insight to our unique regions, terroir, and winemakers.
Where do we get a copy of  AZ Uncorked, The Arizona Wine Guide?
To order AZ Uncorked, The Arizona Wine Guide, see my website.
www.arizonawineguide.com/order
If someone is new to the Arizona  wine region what advice would you give about visiting?
If possible prior to visiting a wine region, I suggest going to a Phoenix Metro or Tucson tasting room that sells Arizona wine to explore the options available. Most tasting rooms have well educated staff that love to share their experience with AZ wine.  Once you decide which region to visit, call ahead to the wineries to confirm their hours.
Get a copy of my book! It has all the wine regions, introductions and photos so you can see what each region looks like.
Anything coming up that we should know about?
Now that all the fruit has been pressed, weekend wine events and festivals are abundant. These are fun because most of our winemakers are the ones pouring their wine. Getting to know your winemaker is always a treat. Our weather is perfect November through May to be outdoors, drinking wine!