Are you bored yet? After organizing my closet for the tenth time and watching all of the Netflix series, I thought it would be a good idea to get out of the house! As with most states our activities in Illinois are limited, but not our imagination. There's still some fun to be had during quarantine. Before the most recent Illinois restaurant shut down on October 30, 2020, I enjoyed a staycation at the Kimpton Gray in Chicago's downtown.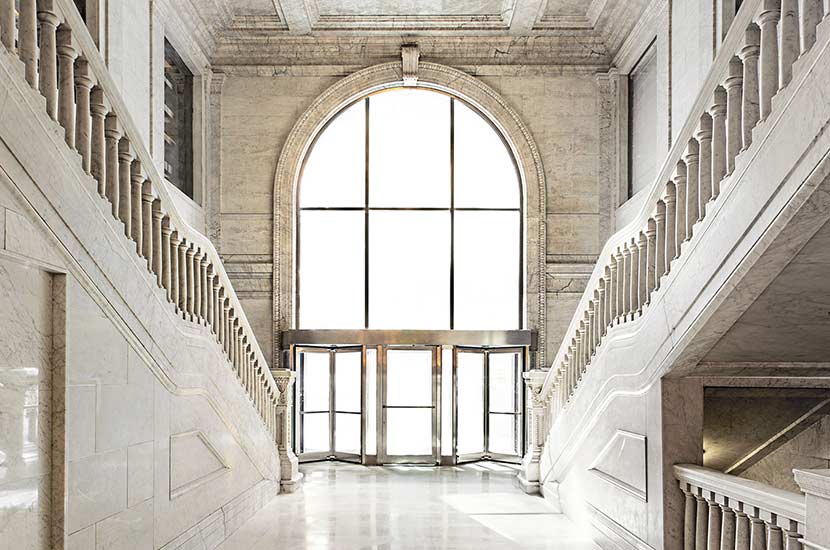 Photo courtesy of Kimpton Gray
If you need to get out of the house and enjoy a few days of fun I highly recommend a stay at the Kimpton Gray. Even with the restaurant closures, you can check into a room for some downtown exploration. Take a long walk, enjoy the sights and order in from some of your nearby favorite food and drink spots. While staying at the Kimpton Gray,  I ordered fried rice and short ribs from  Boleo Restaurant, had a glass of Ruinart Blanc de Blanc champagne at Pops For Champagne and a delicious steak and jalapeno potato au gratin at Ocean Prime. Not a bad three days! 
Want more information on planning your staycation, here are some tips from Joel Contor,  Director of Sales & Marketing, Kimpton Gray. 
Vacation Tips From A Pro
Regine: Now that travel is limited, are more guests checking in to the property for staycations? 
Joel Contor: Yes, over the course of summer and out of COVID restrictions we have found people have found respite here at the Kimpton Gray – choosing a staycation in the city over traveling interstate.
 Regine: One of my favorite Kimpton treats is the "Happy Hour." I imagine that they are suspended? How are you making guests feel special during these times? 
Joel Contor: We have seen some pivots to our usual Kimpton perks…however, there is always time for wine. Simply modified and served by and over by our team at the front desk 5-6 pm.
Tip: Although this is not a part of the Happy Hour offerings, the Kimpton has pre-made cocktails available and they are absolutely  delicious. I indulged in a few of them!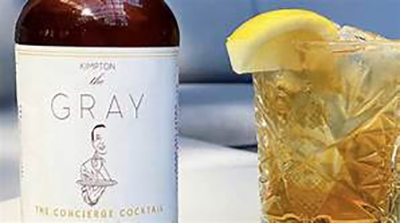 Photo Courtesy of the Kimpton Gray 
I have read that guests are using hotel rooms as "away from home offices". Do you have any programs in place for those working from home and need to getaway? 
Joel Contor: We sure do, and we do currently offer our Home Office Package – along with a number of other packages that may appeal to their situations.
Regine: If guests want to check into the Kimpton Gray for a staycation, what are the top things to do during covid?
Joel Contor: 
1). Check in with our fantastic front desk team – that will give you the skinny on their favorite must see/dos. One of them is the current Monet in Chicago Exhibition at Art Institute Chicago.
2). Get yourself a handmade Kimpton Gray Concierge Cocktail or two – currently in series 2 (the cocktails themselves are curated by the humans that make up The Gray and our rooftop restaurant Boleo.) 
Tip: These are available anytime. Even if you are not a guest at the hotel grab one  to-go!! I tasted the series 2, series 3 is coming soon.
3). Wednesday through- Saturday, get up to Boleo (located on our 15th floor) and experience Chef, Brian Millman's Peruvian and Argentinian inspired street food and of course the playful beverage menu infused in the Latin flavors of Peru and Argentina. Currently featuring Monet Inspired Cocktails throughout the Art Institute Chicago exhibit.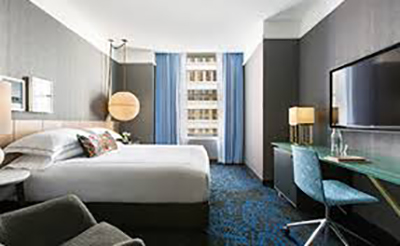 Photo Courtesy of the Kimpton Gray 
Note: As many restaurants, museums and bars are either closed or have limited hours, please check with a concierge. 
 Regine: Is there anything you want to share with our readers that I did not ask? 
Joel Contor: We are here to make your stay as comfortable, safe and enjoyable as possible- our team is just a call away if you need anything.