One of the greatest challenges of living in Chicago is eating my way through our amazing restaurants. Put plainly, Chicago does not suck when it comes to dining options. We have hundreds of eateries for every occasion, mood, budget or palate. Just when I've scratched a restaurant off my "Must Try List," another gem opens! What's a girl to do? One word: EAT!
The M Room, an Experience I Didn't Know I Needed  
In December of 2022, the team behind one of Chicago's restaurant darlings, Roka Akor, opened The M Room. This intimate ten-course tasting experience is a sultry love letter to Macallan whisky. The menu creatively incorporates the whisky and its components in each dish: barley, yeast, oak, and sherry.
Chef Ce Bian wowed us with a Wagyu beef wellington with prosciutto served with, you guessed it, a Macallan demi-glace. The sashimi dusted with Macallan "yeast seasoning" nearly brought us to tears and the oyster made me want to sing. What I appreciated among many other things about this menu was the portion control–I left feeling satisfied, not stuffed!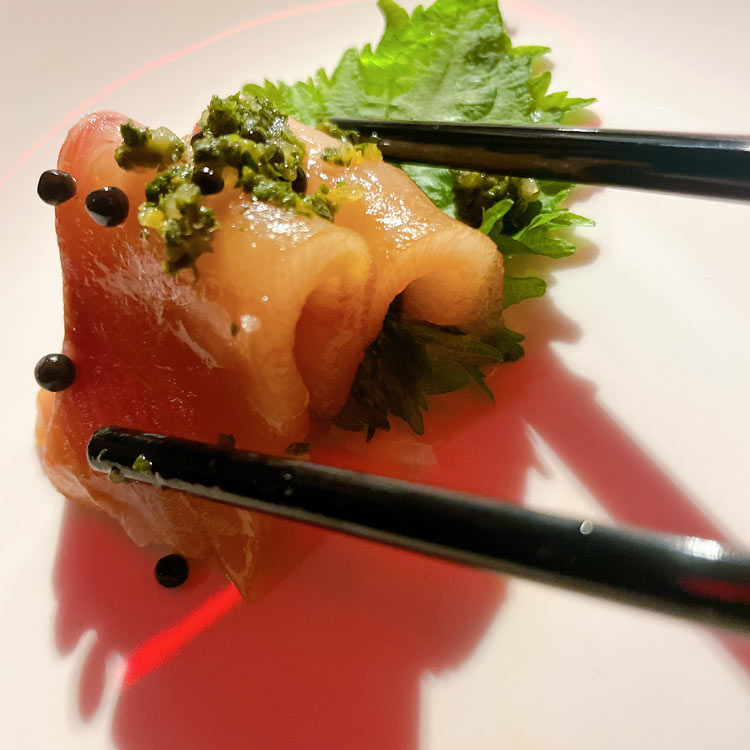 Go for the Cocktail Pairings…or Both 
The M Room provides the option of pairing the dishes with wine or cocktails. I am a wine girl at heart, but I can't pass up a good cocktail! The wines are beautifully curated, however, the cocktails are this menu's soulmate. From the simple: "M Goes With T," an elevated G&T featuring Macallan 12, to the complex "Boulevardier I Do" made with Macallan 18, to the decadent Espresso Martini made with Macallan Harmony, every cocktail is a delicious treat.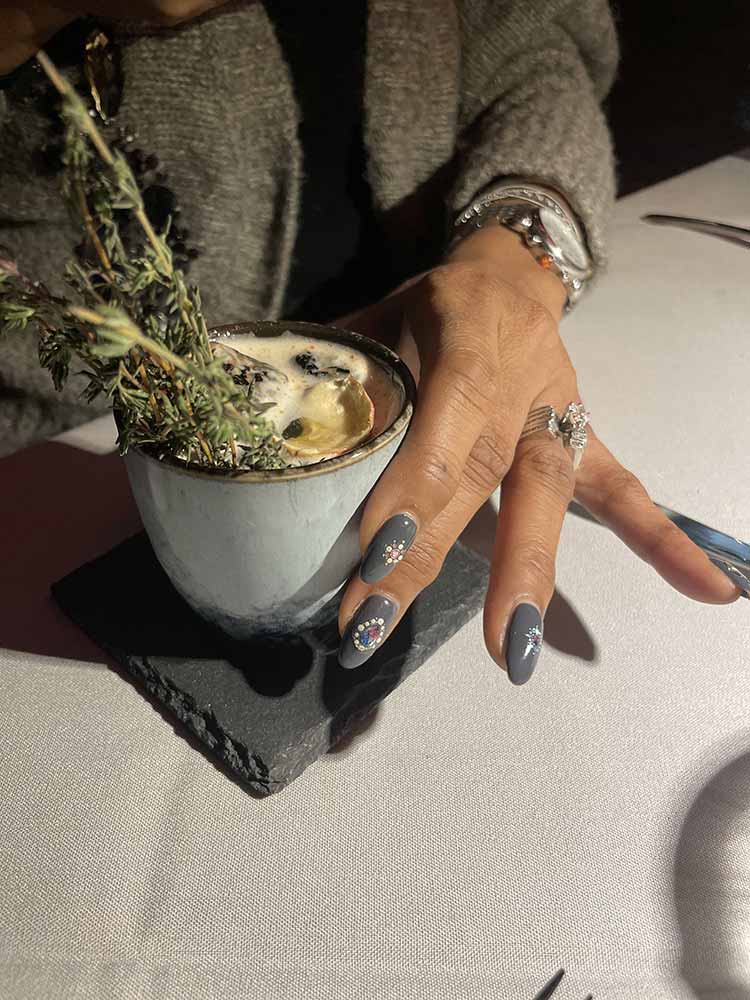 Play Dress Up
The M Room is about fun and games. It's a grown up game of show and tell, and Chef Ce Bian and Beverage Director Jason Huffman brought the best toys. The music is upbeat, the cocktails are whimsical, the culinary team is imaginative. This experience screams, "let's play dress up."
The night I chose to visit The M Room was girls' night, so I invited a new friend who has a flair for fashion to join me! 
I wore the Night Blossom maxi dress, a flirty number with layers and a corset-like top from @TabbysCloset with a Caliban's Skin Line white blouse from Shirtini
Tabby wore one of her favorite layering pieces, an angora beaded gray cardigan and sterling silver jewels from Tabby's Closets (https://tabbysclosets.com). 
The M Room: 450 N Clark St Chicago, IL 60654  https://mroomchicago.com/
Shall We Wine Rating: ?????
Add to your "GO NOW" list 
Hours: Monday – Friday, 5 PM – 10 PM
Prices: $185 Tasting Menu, Cocktail Pairings $145, Wine Pairing $145
Good for: Girls Night, Valentine's Date, Foodie dates, conversation, cocktail lovers