The food ambivalent need not make a reservation. Esmé restaurant in Chicago's Lincoln Park neighborhood is a culinary immersion that borders on a theatrical performance designed for true foodies only. 
There is no crash course to prepare a novice for this sensory decadence. There is no way to prepare for the abundance. Avoid eating a few days prior to your reservation your stomach may shrink and you might miss out on the best bite of your life. Overeat and risk maximum stomach expansion and you might lose the ability to appreciate the nuances of the dishes.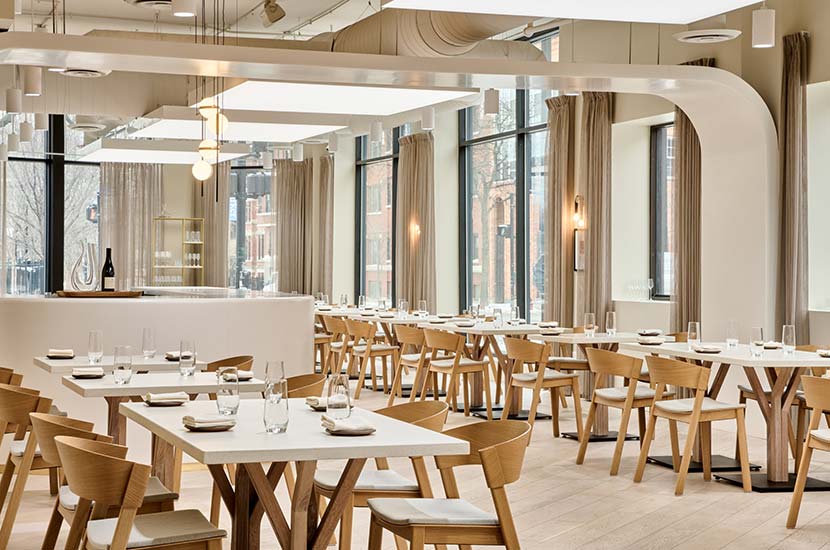 Photo credit https://www.esmechicago.com/
Esmé restaurant is divided into Esmé, the fine dining experience, and Bar Esmé that offers an a la carte large format menu. I chose the door nearest to my parking spot at Clark Street, and entered Bar Esmé, a bright and comfortable room with a direct view into the kitchen. There are about six tables and a counter that sits twelve.  
I was greeted immediately. When I shared my name, Beverage Director Tia Barrett looked up and flashed a bright smile. Beaming with anticipation, she escorted me on the designed path towards Esmé's entrance, at Webster Street. We entered into the dining room of my dreams: open, bright, and sophisticated without pretension. The room is long, with tables positioned close to the north, south, and east walls. The servers parted to let us pass, creating a runway for me to strut towards the front of the restaurant where my friend Terri was waiting for me.  
Word Matter
Floating through the dining room, I was struck by an art installation that hung from the ceiling. This installation by Chicago artist Amanda Love is an artistic replica of beaded curtains popular in the seventies. Instead of wood or plastic, this partition is made of ripped bookends, wood and pages strung together. In the artist's own words, "by deconstructing books and reducing their form, contradictions in the formerly known order of the book are revealed. Suspension frees the viewer from traditional interpretations of books and words, and offers new ways to decipher meaning in the repeating matter. It is through repetition that new visual systems emerge." I searched for my own connection in the fragmented sentences. I recognized some French and tried to create a sentence my mother would compose: a sprinkle of French among the English.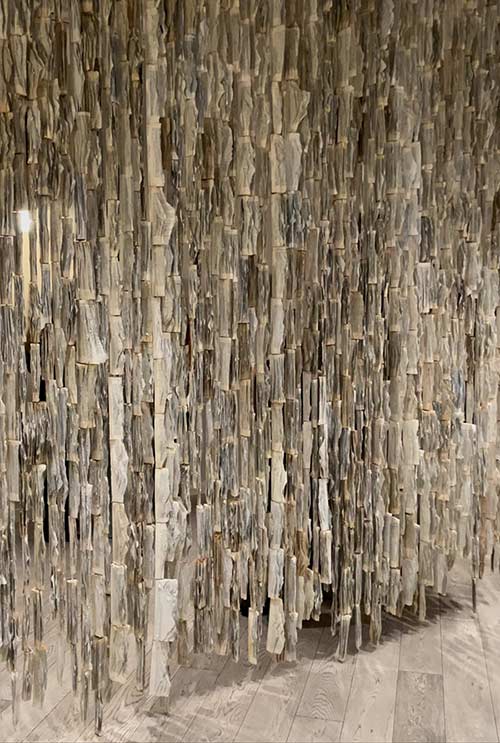 The artwork is not purely decorative, it is a character in the mise en scene. There is no improvisation at Esmé. Every act of the experience is thoughtful and flawlessly executed. There are no spectators, everyone is a part of the drama. According to their website, Esmé "does not have a dress code, come as you see fit." That night, we all understood the assignment and dressed for dinner. A man in a red velvet jacket. His date in silk lavender slip dress. I love a good show and wore a timeless black and gold, flowy A-line dress by Samantha Treacy. Three inch black heels, a vintage Ferragamo bag and a dramatic beige suede coat that brushed against my ankles. Why should the food get all of the attention?
Food and Wine Love Story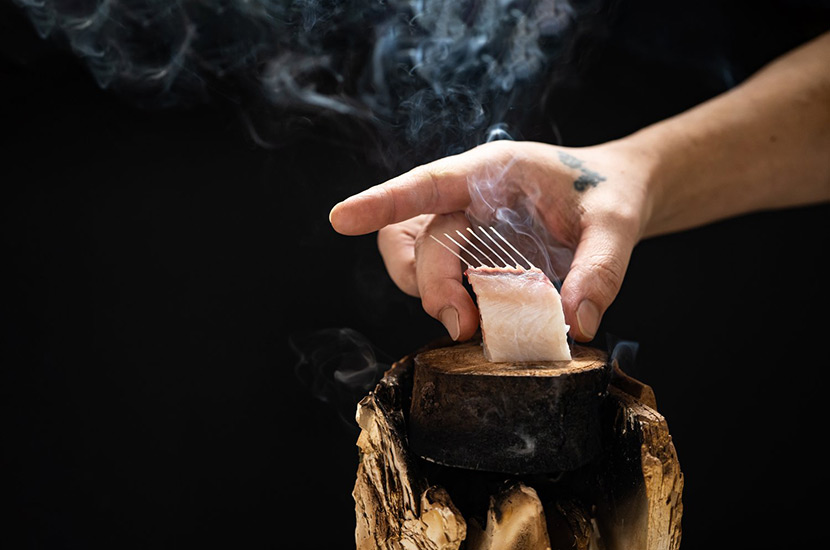 Photo credit https://www.esmechicago.com/
Chef Jenner Tomaska's menu on the night of December 30, 2022, like Love's exhibition, was evocative. The vibrations from both were enticing and touched the soul like the elongated notes from a singing bowl. The first course canapés: Lips, Cheeto and Paper were paired with a glass of NV Champagne Drappier Carte D'Or. Each tiny nibble was so beautifully adorned, I snapped photos from every angle before devouring them.  
Over the next four hours we were presented with one gem after another: a gold sculpture supporting the most delicious croquette, a wooden tomahawk smoking pieces of sole tableside, a dome made of silky black paper cut to reveal the steamed monkfish. Our server Nathan delighted in telling us about the artists who created each plate, bowl and spoon. 
Nathan flushed with pride when describing the wines Barrett pairs with each dish. He shared the stories of the families who owned them and how they cared for vineyards. I listened and nodded, equally delighted by his enthusiasm and the selection. The wines included: 2020 Joh. Jos. Christoffel Erben Urziger Wurzgarten Riesling Spatlese, Mosel, Germany. Le Cadeau Vineyards Pinot Noir from Oregon's Willamette Valley, No Name Borgogno Langhe Nebbiolo DOC and Renato Ratti Marcenasco Barolo 2018. 
As full as I was I created space for dessert: Delicata Squash; a semi-sweet treat with the texture of crème brulée served with Garret's Popcorn. This menu is available through February with a new menu and installation starting the first week of March.  Chef Jenner Tomaska and his wife Katrina Bravo, invite new artists to collaborate every three months. Meet the future and past artists. 
The collaboration inspires a new show; new foods, music, and a new vibe. If you can afford it, make Esmé a quarterly event. 
Esmé
2200 N. Clark St.
Shall We Wine Rating: ?????
Good for: Foodie dates and bucket list item
Open: Wednesday to Sunday, 5 p.m. to 10 p.m.
Reservation/ Prices: Tasting Menu is a ticketed ($250-$265 per guests) that can be purchased at Resy with or without the Classic Wine pairings ($150-$250) Non-Alcoholic Pairings ($125-$135) Exploratory Beverage Pairing – includes lesser known varieties and producers, beer, wine and sake ($150).